Zirconia Powders and Performance: Know Your Products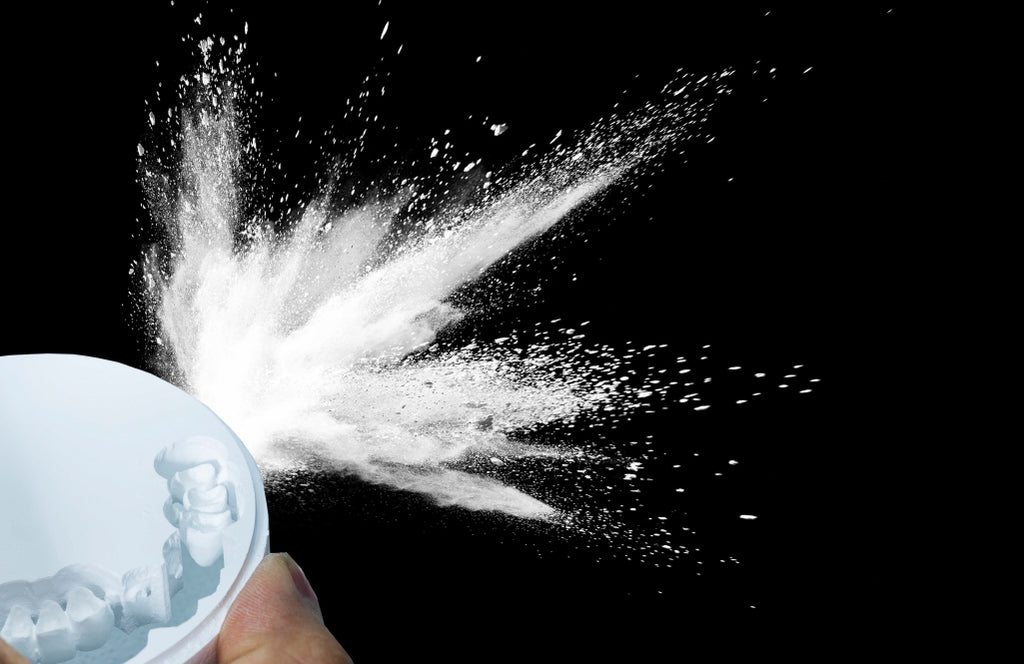 The Danger of  Suboptimal Zirconia
Unfortunately, the dental industry cannot depend on all zirconia sources, as there is a wide variation in quality and consistency between global manufacturers. For example, without a superior homogeneous mixture of the yttria used to increase strength and fracture toughness in the zirconia, the potential for immediate failure of crowns and bridges is increased greatly. Another issue is the purity of the zirconia powders, with contaminants such as lead, zinc, tin, insects, plant cellulose—even radioactivity—degrading some of the cheaper zirconia powder's quality. Radioactivity in zirconia should not be overlooked.
Dentists may not be aware of this issue, even though they have the highest risk exposure in placing a zirconia restoration in a patient. A doctor should know the quality of what is essentially a medical device fixed in a patient's oral cavity. One zirconia crown is not the same as another, and while technicians understand these differences, this knowledge is still being translated to the dentist, who may be focused on the price. However, patients with a failed restoration, or who have an allergic reaction to lead or other contaminations in the powder, will likely be extremely dissatisfied, costing the dental practice more time, money, and ultimately reputation.


How Do Laboratories Determine the Optimal Zirconia for Their  Dental Clients and Explain the Factors That Make the Difference?
Top producers of yttria-stabilized zirconia (YSZ) powder maintain extremely clean manufacturing environments, test all powders to specifications (during the process and at the end), and provide a certificate of analysis with the powder. This certificate provides important data to the customer about the purity and physical properties of the powder. Of course, general ceramic properties such as color, density, bending strength, and other features are evaluated to ensure their values are in line with the specifications.

In addition, the companies that manufacture discs rigorously evaluate the powders from different sources. Important variables include:
Composition
Density
K1C
Grain size
Microstructure
Different distributions of various grain sizes
Type and amount of stabilizing oxides (Y2O3)
Flexural strength
Purity
Porosity
Hardness
Processing by spray draying & type of organic additives
Method for adding stabilizing oxides to ensure homogenous distribution
Fig 1. Foreign substances: mica, tac, CaCO3, dirt.
Fig 2. Foreign substances: organic fibers
Foreign Substances: A Serious Issue
THE RAC CORPORATION IN SAN JUAN CAPISTRANO, CA, has over 35 years' experience in manufacturing and testing of zirconia in the dental industry, and in that capacity, the company has tested hundreds of powder compositions. Unfortunately, this testing has revealed contaminants such as lead, zinc, tin, and copper, along with insects, plant matter, and fibers. These foreign substances are often the result of multiple-use manufacturing facilities that do not isolate the powder production from particulates from their other products. Dental zirconia is a medical device, but at this time the FDA does not regulate these materials for contaminants. Therefore, zirconia disc consumers need to be aware of which suppliers are testing for and certifying purity.


Uniform Distribution/Consistent Quality
One key factor in the ultimate performance of zirconia restorations is the distribution of the yttria (Y2O3) stabilizer. Three molar percent of yttria is added to give the zirconia its highest fracture toughness and flexural strength. However, if the yttria is not distributed homogeneously, the strength of the restoration is undermined. For example, if a disc has more or less yttria at specific points in the disc, once milled, the restoration is going to reflect that inconsistency—jeopardizing its strength and toughness.
Tosoh Corporation, which produces zirconia powders for many industries including dentistry, introduces yttria into the material in an innovative patented manner that results in homogenous distribution. Tosoh has developed control technology and an innovative hydrolysis (liquid/reaction) process that enables the manufacture of zirconia powder with high reliability through the homogenous disbursement of yttria. This unique method, along with the company's other quality controls, have ensured the consistent performance and reputation of its zirconia.

Microstructure & Yttria Dispersion:
China powder with poor dispersion
Zypex Smile
FOR ITS ZIRCONIA PROCESSING INNOVATIONS, Tosoh Corporation was awarded the 65th Okochi Memorial Technology Prize, in recognition of the company's establishment of mass production technology that enabled the manufacture of stable, high-quality zirconia powder.  Click here for the full story.

Confident in Your Own Standards
How can laboratories ensure that their zirconia discs are up to specifications, while still remaining competitive? A turn-key solution developed by the RAC Corporation encourages laboratories to manufacture their own discs. The company designs, builds, and installs production facilities
that deliver high-precision zirconia discs. These facilities are customized to meet the production supply needed and the space available. In addition, RAC can assist in testing the produced discs and assist
with FDA 510K's.
IS IT TIME TO PRESS YOUR OWN DISCS?  Check out the estimated return on investment detailed in this chart. Ultimately, your laboratory will gain a reputation for very beautiful, translucent, long-lasting restorations while increasing your profit margins. 
 
Bottom Line
For the benefit of their client dentists and patients, laboratories are now providing consulting services on evaluating everchanging dental materials. This relationship building is more important than ever, with an increasing number of products and information dispensed through a global supply chain. On the other side, laboratories are building working relationships with manufacturers to
become knowledgeable about the features and future of their materials.
For example, RAC Corporation founder Robin Carden has cultivated a long-term connection with Tosoh Corporation. Carden began working with partially stabilized zirconia for the dental industry in 1985, and over the years, he has visited more than 15 zirconia manufacturing plants and tested hundreds of
zirconia powder compositions. He continues to return to Tosoh powders because, after repeated testing, he's yet to find any contaminants or yttria homogeneity issues. "I've visited Tosoh plants over 17 times, and I always found their powder and their production methods to have very high standards," Carden
told Inside Dental Technology.

"The Tosoh powder is different than all other powders in the way it's processed.
First, its hydrolysis (liquid/reaction) process results in homogeneous yttria distribution. Second, the facilities are very clean, even in their packaging area. Third, is their in-house ability to test their powder for a variety of chemical and physical parameters." Tosoh products manager Jay Thomas adds, "Clients such as RAC are on the front lines of dental ceramics, preparing for the future.
And we're benefiting by working with an organization that is both delivering the
technology and educating the customers about powder standards. The combination of these two organizations works for everyone." "When you use Tosoh powders," Carden concludes, "I would instruct the doctors to make sure that they advertise that they're using a very strong, quality zirconia. The idea is you're providing better dentistry to the patient—and that's what it's all about."
"I've visited Tosoh plants over 17 times, and I always found their powder and
their production methods to have very high standards."

About the Companies
RAC Corporation is a technology-based company that can design, develop, and manufactures products utilizing proprietary advanced ceramics and composite materials. With over 35 years of experience in advanced biomaterials, RAC has the foundational expertise to assemble the best Zirconia Disc manufacturing plants in the United States and around the world. The company provides
industry leading lab equipment and products, including CVD coated milling burrs, PMMA, Zirconia Media and Sintering Boats, all at a reduced cost for their clients. Additionally, RAC provides consulting research and development services to improve both quality and efficiency within the dental laboratory market
Tosoh Corporation is a global chemical company that supplies manufacturers with the materials they need to produce the things that make modern life all that it is and everything it can be. This chemical and specialty products and materials group comprises over 100 companies worldwide and a multiethnic workforce of
more than 12,000 people. In the 80 years that the company has been in business, it has built balanced product lines of commodity chemicals for industry and of specialty products and materials for high technology and niche markets.